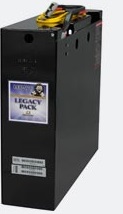 Although Alden Equipment offers batteries from many of the major Battery Manufacturers,

we recommend batteries and chargers from

AmericanBatterySales.com 

(ABS).

The ABS battery productline covers most industries and includes motorcycle batteries, automotive, motive power, stationary power, railroad batteries, glass mat (and everything in between). ABS chargers are available in conventional, opportunity, and fast charge models. Batteries & Chargers are available from 6 Volts to 80 Volts. Alden also offers industrial and unitized batteries from Battery Builders Inc (BBI), and maintenance-free and specialty batteries from DOUGLAS Battery & GNB/EXIDE Technologies for special applications. . Need a battery fast?     Call 888-468-9715 and ask for SALES or fill out the parts request form.

We have an active battery recycling

program and regularly buy old/used batteries

Have OLD batteries that need to be recycled? Call 888-468-9715 and ask for The Battery Recycling Department or fill out the Contact US form.

ALDEN EQUIPMENT, INC.

Equipment is our Middle Name.

We look forward to working with you.